The other night as I put my daughter to bed, she shared with me some of the events of her day. At age eleven, I am always excited when she decides to share because this age has brought with it her need to keep some secrets from me - like crushes, girl-talk, basically social issues - but that night she wanted to share. She told me that as she had been playing with someone that day she became frustrated with his behavior. The child was a good deal younger than her and was obviously struggling with wanting to be the center of attention. How he got that attention- by doing good things or bad- didn't seem to matter to him.
"I told him, through my heart," SA said, "that he was being mean and that he needed to share and not be ugly to me and his sister."
"Through her heart", I thought. What an interesting concept. She filtered what she had said through her heart so that it wouldn't sting and so that it would come from love rather than frustration and anger. I absolutely loved her choice of words! She was also spot on with her thinking. If we would all just filter our thoughts and actions "through our heart" before acting on them, this world would be a much better place.

I have often found that children offer profound thoughts. This seems to come from their innocence and the purity of their intentions. God's intentions for the children of this world are far more than we might expect, and this especially includes children who face life challenges. So many times in the bible we come to verses that illustrate this fact.
But Jesus said, "Let the little children come to me and do not hinder them, for to such belongs the kingdom of heaven."
Matthew 19:14
Earlier the same day that my daughter shared her thoughts with me, I received an email from a friend. A
blog
was attached. It shared the journey of Christian man named John Knight who works for John Piper. Knight has a disabled son who, although 18 years old, operates at the intellectual level of an 18 month old. Despite his son's disabilities, the young man loves to sing praises to the Lord. This sometimes happens in grocery stores and public settings where others will hear him. John shares that when his son sings he is acting as a spiritual warrior against Satan and glorifying God. Although John's son is not what this world would call "strong", he is strongly valuable to God! Here is what John shared:
Out of the mouth of babies and infants, you have established strength because of your foes, to still the enemy and the avenger. (
Psalm 8:2
)
John states: So if this is the case, and I believe it is, my weak and disabled son — with all his limitations — is part of God's plan to still the enemy and the avenger. And that makes him an effective warrior against a vile and spiritually violent enemy, equipped by God to do what those who are strong and proud cannot do, no matter their physical or intellectual giftings. (Reference to
1 Corinthians 1:27-29
)
John's son sings "through his heart" to a world who needs to hear God's love and he quiets the enemy by sharing this Love.

For Bobby, another child I will be writing about in the future, spoken word is not necessarily his gift, but his actions speak much louder than words. Bobby has autism and his verbal abilities are limited. Despite these limitations, Bobby still finds ways to effectively express himself. As he interacts with the world, Bobby has the viewpoint that everyone is his friend. His father, Doug, shares that when Bobby experiences kindness from people or simply feels a need to express his love for them, he shares his emotions freely by giving them a huge bear hug. His most recent recipient was the "cookie lady" at Publix. These gestures of physical kindess are received unexpectedly and, usually, very warmly by others who recognize that, "through his heart", Bobby is sharing the pure love of our Creator.
These are just a few examples of how God shows His glory through our special children. From them and others, I have learned that we should never underestimate His ability to use us in ways that we least expect.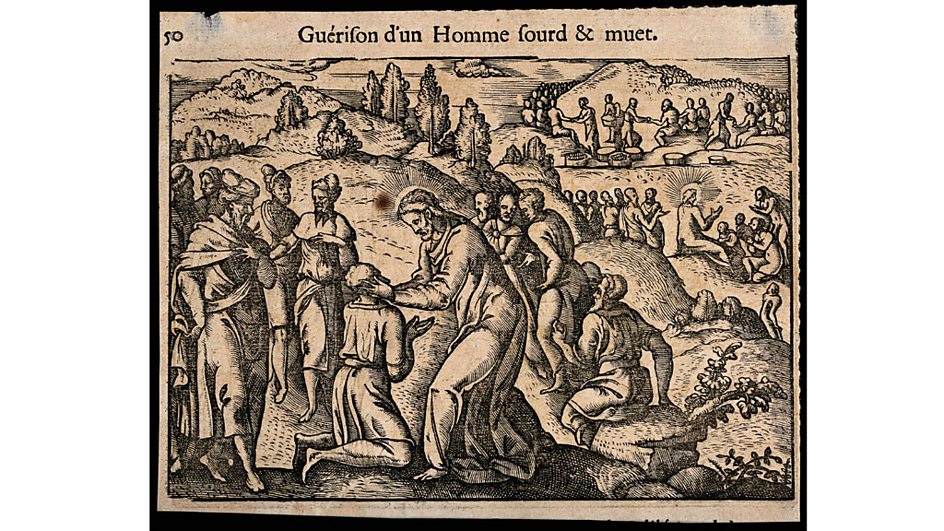 18th century Woodcutting showing Christ healing the disabled.


In John 9 we learn of a boy who was born blind. Assuming that his afflictions were the result of sin, the disciples asked Jesus, "Master, who did sin, this man, or his parents, that he was born blind?" Jesus' answer was this: "You're asking the wrong question. You're looking for someone to blame. There is no such cause-effect here. Look instead for what God can do" (The Message).
Isn't it just like us to want to blame someone for our perceived weaknesses? Instead, Jesus tells us to stop right there - there is no one to blame! Instead, let's look at what God can do with what the world calls weak! Infinitely more than we might ask or think (Ephesians 3:20). God can turn our pain into pleasure, our trials into triumph, and our struggles into strengths. Only He can take our weaknesses and, "through His heart," turn them into something truly beautiful and lovely, allowing those we would least expect to bring the gift of glory to Him.